Wholeteam Enterprises, LLC will create the tools that will assist you in expanding your service / venue to your local area and subsequently create a buzz in your community.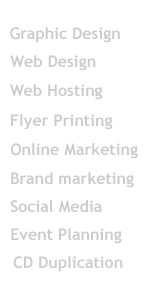 We are also one of the founders and sponsors of the Mid-Atlantic Music Conference, (www.midatlanticmusic.com); this event heightened the industries awareness and interest in this region, plus gave existing companies the insight and connections they needed to push their materials to the next plateau. The attendees ranged from rock to hip-hop, from A&R to Radio. The artists also were able to see the intricate pieces necessary for success in this business, and that everyone do and that everyone does not have to have success in front of the cameras to be successful in the industry. And we have 2 music festivals held annually in the city of Charlotte, NoDa (North Davidson) Music Fests.
These are just some of the ways we can help you gain visibility, through our connections, events, and our online network.
We pride ourselves in creating stunning customized graphics tailored to your specifications. Please View Our Vast Portfolio